Per: Gunners up for big test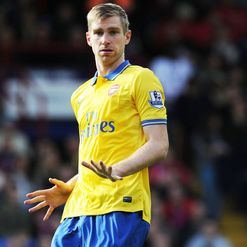 Mertesacker: Has the belief
Arsenal defender Per Mertesacker says Saturday's 2-0 win over Crystal Palace has given the side a well-timed boost ahead of a tough run of fixtures across three different competitions.
The Gunners saw a 12-match unbeaten run come to an end in the Champions League against Borussia Dortmund last Tuesday, but bounced back at Selhurst Park this weekend to maintain their two-point lead at the top of the Premier League.
Arsene Wenger's men resume league hostilities against second-placed Liverpool this coming weekend, but not before facing London rivals Chelsea in the Capital One Cup on Tuesday while they later travel to Dortmund for the return fixture in the European Cup next week.
"Palace was a good test for us and a good win ahead of the hard games to come in the next weeks," Mertesacker said.
"We wanted to come back quickly as possible as a strong unit. What we showed was good enough to respond, but there will be more tests to come and that will be crucial for the rest of the season.
"That we have started well showed for sure we have improved a lot over the last two years.
"We are in a better position. It feels much better now. We don't have to get anything back (on the other sides), so that gives us more safety and we feel much better.
"We want to surprise people more and more. That is what we need to do.
"We are in a strong and interesting position, so we are aware of it and will try to keep it - but that is the difficult thing, to keep it."
http://www.football411.com/story/0,22162,14287_8995842,00.html